Niagara This Week - St. Catharines - June 6, 2016 By Melinda Cheevers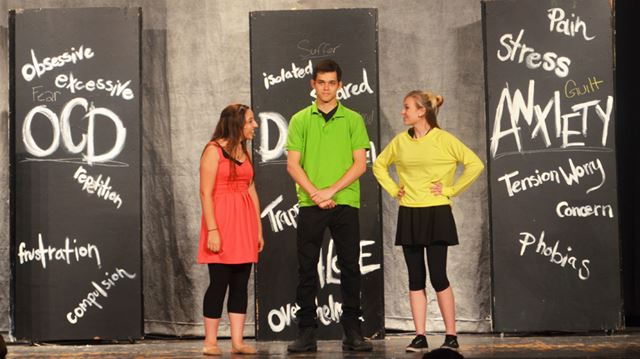 ST. CATHARINES — In an attempt to shatter the stigma surrounding mental health, drama students at Holy Cross Secondary School did what they do best – perform.
As part of the drama program's curriculum, students from Grades 11 and 12 are required to work together on a collaborative final project. Drawing from the school's Let's Talk HC campaign aimed at raising awareness around the issue of mental health, the students decided to focus on the stigma surrounding it and the need to shatter it. The end result was Shattered, a play written and performed by students at the school.
"They did a lot of research in putting this play together. It was a great experience for them because they learned a lot of mental health issues, things they didn't know before," said Melanie Contini, arts program chair at Holy Cross. "They learned about the symptoms and the different ways mental health illnesses can manifest, like sometimes people won't even know they have an illness for a long time. Then one day, they'll realize they have a problem and they need help."
Cerena Gatila, special to Postmedia Network Sunday, April 10, 2016
Holy Cross Catholic Secondary School photography students have brought their Words Given to the Unspoken to Rodman Hall.
The art show opened last week, presented in partnership with Peter Vietgen, an associate professor of visual arts at Brock University, and Amy Friend, who teaches fine arts at Brock.
Friend, who is also an artist, had a three-day workshop with the photography students at Holy Cross.
"It was basically a class project," Grade 12 student Meggan McConnell said of the exhibition.
"It was something we were interested in and (our teacher) encouraged us. She really believed in us," she said with a smile.
Her piece in the art exhibit is called Living in the Age of Innocence.
Prior to being a part of the photography class, McConnell had never taken any art classes.
By Bill Potrecz, The Standard, Friday, June 3, 2016
Corey Quinn believes there is no shame in silver.
The head coach of the Holy Cross Raiders boys field lacrosse team couldn't have been more proud of his charges after they came home with a silver from the Ontario Federation of School Athletic Associations (OFSAA) A/AA boys field lacrosse festival in Georgetown.
"They are going to wake up Monday and realize they climbed a huge mountain," said Quinn, who was assisted on the sidelines by Dave Walker. "We were so proud of the guys. They put in such an effort."
The medal was the culmination of a lot of hard work from Day 1 of training camp.
More Articles ...